Cancer Care Ministry Training
Make a Difference in Countless Lives

Over 1.5 million Amercians are diagnosed with cancer every year (American Cancer Society).

We all know someone affected by this illness.


Our Journey of Hope® is a cancer care ministry open to anyone who is ready to make a difference in the lives of those fighting cancer. We want to bring practical support, courage, compassion, and above all HOPE to every person in our community affected by cancer.

Be devoted to one another in love. Honor one another above yourselves. Never be lacking in zeal, but keep your spiritual fervor, serving the Lord. Be joyful in hope, patient in affliction, faithful in prayer. Share with the Lord's people who are in need. Practice hospitality. Romans 12:10-13

Make a commitment today to no longer allow these people to walk throgh this difficult journey alone. Register now for the Our Journey of Hope small group that will equip and empower you for this special outreach. Materials are provided free of charge.

Small group topics include:
Why cancer care ministry is important

What cancer is, and how it is treated

The impact of cancer on spirit, mind and body

What effective and compassionate ministry looks like

Emotional, spiritual and physical needs of those dealing with cancer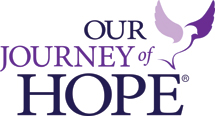 To learn more about this important
ministry opportunity, please contact
Dwight Raven.