Whether you recently moved to a new place or are looking to make an impact in your current community, find a volunteer opportunity to empower yourself and others through the church.
There are many opportunities here at New Harvest. Contact the office for more details!
Monthly
Ministry
Spotlight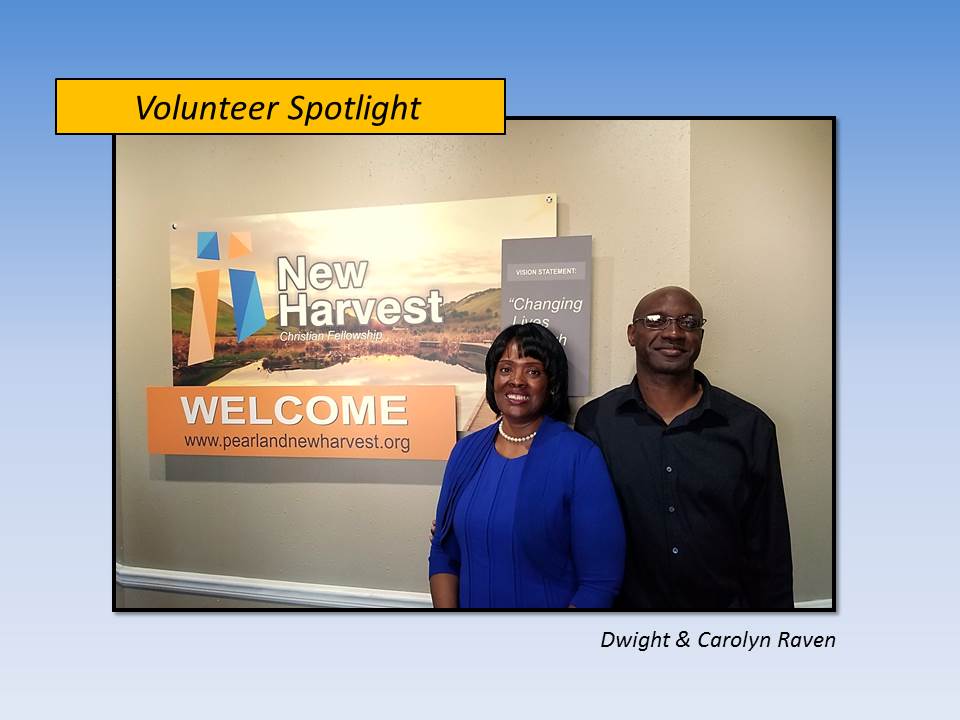 Dwight & Carolyn Raven
All-Around Volunteer
Dwight & Carolyn have been attending New Harvest for over 10 years. They were searching for a church home for some time and then they found New Harvest. Pastor Keith called Dwight and said that he would like to meet him and could he come by and pray with him. Dwight said yes and that's when God lead Carolyn and Dwight to attend New Harvest. They joined the church about a month later.
Carolyn joined the praise and worship team for about a year and then was lead to join the women worship team. She later was called to be over the prayer ministry and serve there. Carolyn is currently part of Hope for Cancer ministry and the greeter team.
Dwight has served in building maintenance, repair and a little bit of it all. Dwight has been a Deacon for about a year now and is the founder of Hope For Cancer ministry, formerly Journey of Hope, that teaches families about cancer care and about how to have hope while going through cancer. God is awesome and still heals the sick today as Dwight is a witness of. Dwight has been living with stage IV cancer for a little over nine years.
Carolyn was born and raised in Houston, Texas and has two wonderful children. Dwight was born and raised in Houston, Texas and they met at work. they have been married for 20 years now. They have 3 beautiful grandchildren and 2 beautiful great grandchildren and love ever moment they share with them.
When not serving in ministry Dwight and Carolyn enjoy traveling, shopping, fishing, and spending time with family and friends.
They both love the Lord and enjoy speaking and sharing the gospel of Jesus Christ. 
Their favorite scripture is – Be joyful in hope, patient in affliction, faithful in prayer. Romans 12:12     
HOW ARE YOU CHANGING THE WORLD
THROUGH VOLUNTEERISM?
December
Ministry
Spotlight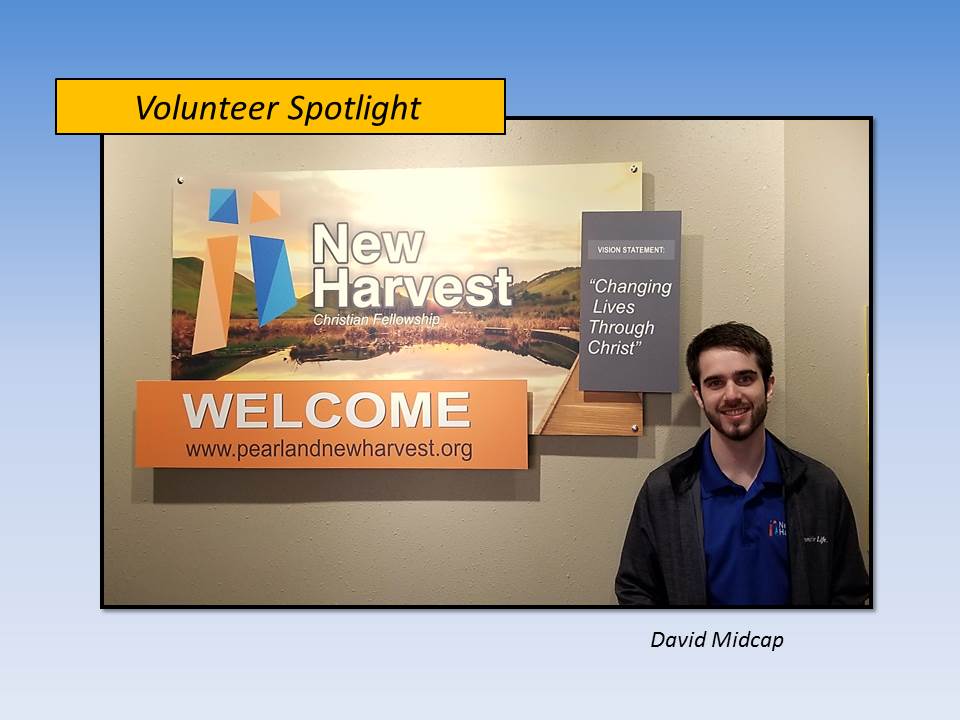 David Midcap
All-Around Volunteer
David came to New Harvest in December of 2016 soon after moving from the Spring/North Houston area where he grew up. He had plenty of experience with running computers for church, so he quickly inserted himself with the tech team where he feels most at home. He accepted Jesus into his life early at 4 years old and briefly played bass guitar for the children's church services at his old church. But don't ask him to play now, because he's barely touched it in seven years!
David has a computer science degree and works as a developer for a small company in Pearland.
In High School he performed theater with Christian Youth Theater in The Woodlands in productions of Cinderella, The Music Man, an Original retelling of Alice in Wonderland, and Fiddler on the Roof.
In college he enjoyed rock climbing at the gym and went on spelunking trips with the outdoors group. He's also been skydiving twice, and occasionally sews costumes for conventions he attends.
But mostly he enjoys living quietly while reading, watching TV, playing games, and baking cookies and pastries (mostly for himself).
HOW ARE YOU CHANGING THE WORLD
THROUGH VOLUNTEERISM?
November
Ministry
Spotlight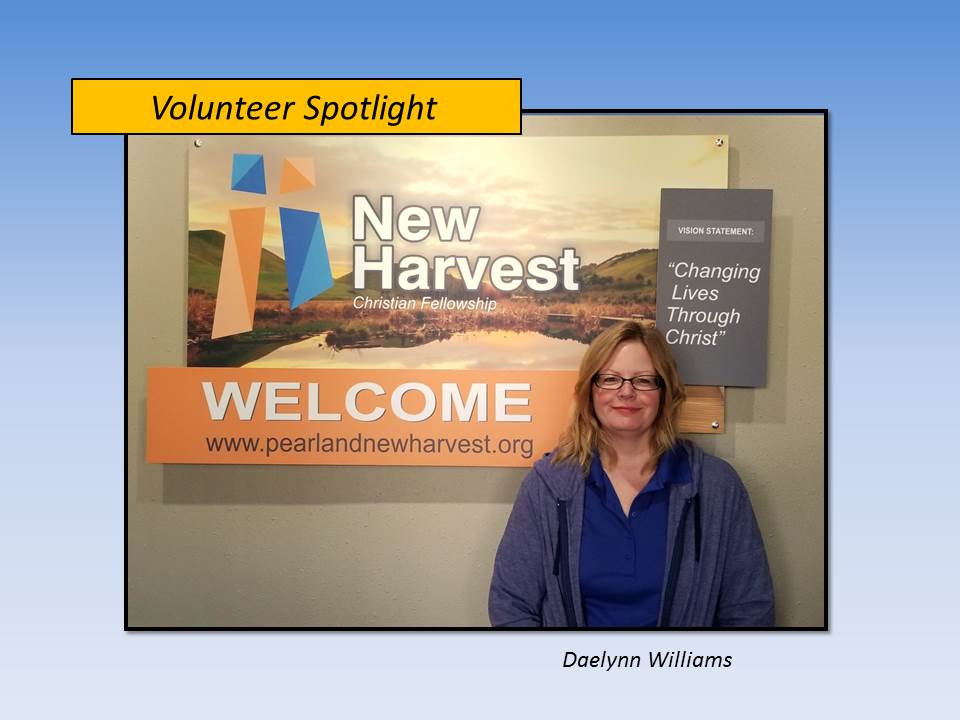 Daelynn Williams
All-Around Volunteer
Daelynn came to New Harvest in January, 2014 after searching for over 4 years for the right church in Pearland.  She moved to Pearland in 2010 for work and says that finding the right church was difficult. She visited many churches and spent a lot of time traveling back to East Texas to go to her home church because she couldn't find the right one here. She feels blessed to have found a strong, bible believing, teaching church in New Harvest. She quickly plugged into the children's ministry and is currently teaching the Jr. High kids on Sunday mornings. She has also served on the Praise and Worship Tech Team. She is hoping to start a single's ministry in the near future.
Daelynn was born an original "Valley Girl" in Van Nuys, California. She grew up as a navy brat moving from coast to coast, north and south. The constant moving, she says, has taught her to be flexible and adapt to change easily. She gave her heart to Jesus when she was 7 years old and grew to love and serve Him through the guidance of her 2 grandmothers who were strong, christian women. When she was 23, she got mad at God because her grandmother died and turned away from Him. But 2 years later, as her heart was longing for comfort, her Daddy God met her at the front door of the church and she rededicated her life to follow Jesus.
As she grew in Christ, God called her into the children's ministry in 1994. She has been active in the ministry ever since: 8 mission trips to Mexico, overseeing an outreach ministry to nursing homes and hospitals, serving as Children's Director of the preschool ministry and being very active in the single's ministry. She even became a clown for Jesus, "SonFlower", and has served God and the children in many ways since then.
Daelynn has 3 wonderful sons, 1 daughter-in-law, one soon to be daughter-in-law and 2 grandsons.
When not working at the company she has been with for over 20 years, Daelynn likes to paint, go to the beach and travel. She also spends as much time as she can with her dog "Daisy" and her cat "Kat".
HOW ARE YOU CHANGING THE WORLD
THROUGH VOLUNTEERISM?
Larry & Jackie Reed
All-Around Volunteers
Larry & Jackie have been attending New Harvest since 2005. Jackie says that they searched for a church for a long time and when God led them to New Harvest they knew that they were home the first time they walked in the front door. They have served in almost every area of ministry since then – children's, nursery, men's fellowship, youth, praise and worship and janitorial. They are currently a part of the Journey of Hope team which ministers to cancer patients and their families. Larry is a Deacon and is a part of the praise and worship team, Jackie serves on the Front Line Team.
Larry was born and raised in Oklahoma City, Oklahoma and moved to Texas in 1970. Jackie was born in Michigan City, Indiana and moved to Texas in 1970 also. They met when they lived in the same apartment complex. Larry saw Jackie in the parking lot and hollered at her, the rest was history! 42 years later they have raised 3 sons and 6 grandchildren.
When not serving in the ministry they love to travel, ride bikes, be at home with their dog Bo and spend as much time with family as they can.
They have served the Lord almost their whole lives and they live by faith and in joy. They walk out each day by Jeremiah 29:11 – "For I know the plans I have for you," declares the Lord, "plans to prosper you and not to harm you, plans to give you hope and a future."
HOW ARE YOU CHANGING THE WORLD
THROUGH VOLUNTEERISM?
Paul & Nellie Colon
All-Around Volunteers
Paul & Nellie have been coming to New Harvest for over 5 years and began serving in the church as soon as they got here. They help whenever and wherever they are asked or needed. They oversee the Lord's Supper and Baptism. They are active in many areas such as Harvest Café, The Front Line and being a part of the Usher/Greeter team. Paul is a Deacon of the church. Nellie helps with the children. They purchase the supplies for the church when needed and they open their home for home fellowships on a rotation basis with others.
Born in Puerto Rico, Nellie moved to New York as a young girl. There she met Paul, who is also Puerto Rican. They have been married for over 38 years with 3 sons, 8 grandkids and 4 great-grandkids.
They gave their hearts to Jesus while attending a Billy Graham Crusade in New York City. Not long after they moved to Pearland, Texas to be with family. One day, while working at the church, they found a stray dog, whom they named Sonny. Paul has become a "dog-walking evangelist", meeting people every day in their neighborhood; witnessing to them and inviting them to church.
When not volunteering at the church or evangelizing on dog walks, Nellie and Paul love to spend time with their grandkids or spend quiet time by reading, painting and doing puzzles.
HOW ARE YOU CHANGING THE WORLD
THROUGH VOLUNTEERISM?
Sunday
10 AM
Wednesdays
7 PM
Address
12216 West Broadway
Pearland, TX 77584